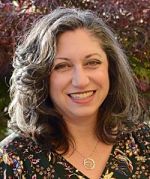 A Note from Our Executive Director Nicole Hodson

As someone who loves to cook, I was thrilled when my friend and colleague, Dr. Tammera Karr asked me to contribute a few recipes to her new cookbook. I've dreamed of writing my own someday, with a focus on the nourishing, full flavored, and colorful Persian foods of my childhood. So of course, when Tam asked, I was more than happy to play… and even a bit flattered!
TALK ABOUT A DO-ER!

In awe, I watched each day as the emails came rushing in about new contributors, recipes, and narratives from Tam's extensive NANP network. In just a few short weeks her cookery book, a companion to the original work, Our Journey with Food, went from a mere concept to a full-blown reality. The pace at which this project came to fruition was somewhat astonishing and struck me as a fantastic example of how our community comes together.