Ready to Share Your Passion?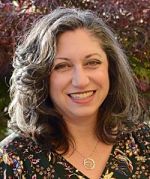 A Note from Our Executive Director Nicole Hodson

As someone who loves to cook, I was thrilled when my friend and colleague, Dr. Tammera Karr asked me to contribute a few recipes to her new cookbook. I've dreamed of writing my own someday, with a focus on the nourishing, full flavored, and colorful Persian foods of my childhood. So of course, when Tam asked, I was more than happy to play… and even a bit flattered!
TALK ABOUT A DO-ER!

In awe, I watched each day as the emails came rushing in about new contributors, recipes, and narratives from Tam's extensive NANP network. In just a few short weeks her cookery book, a companion to the original work, Our Journey with Food, went from a mere concept to a full-blown reality. The pace at which this project came to fruition was somewhat astonishing and struck me as a fantastic example of how our community comes together.
Always looking for ways to help our members find success I asked Tammera how on earth she pulled this cookbook together so quickly and seamlessly. Here's what she said, "I started out with a lot of self-doubt and negative assumptions. I knew I wanted to ask my fellow NANP-ers to participate, but I convinced myself that they were too busy, or wouldn't be interested. Everything changed when my husband Michael finally said, 'Get over yourself and ASK!' Once I started asking my community for contributions, things began to move and fall into place."
Dr. Karr offers these nuggets of wisdom when it comes to collaborating with your community:
You don't know who will be thrilled to work with you. In fact, you'll probably be surprised.

You'll have more interested parties than you think. Go for it and organize your dream team.

It's easy to be your own worst enemy. Don't fall into this trap by building barriers to success; be open and things will fall into place.

Sharing your passion will attract others who feel the same.
You belong to an amazing community… ASK!
I'm guessing at this point, you're thinking about that idea that's been nagging at you, like me with my Persian cookbook. Maybe reading this article has you considering pulling that program together that's been in the back of your mind for a while. Maybe there's a study you've been itching to conduct. Or maybe you just have a nutrition-related idea you want to flesh out in greater detail. Whatever idea, program, research, concept you've got, we're going to give you a platform to showcase it at our 2019 Conference Poster Session.
Whatever it is that has you juiced up, I encourage you to pull your posse together and get to work! The deadline for poster abstract submissions is February 1st, so the time to move is now. Take advantage of your community and start asking. You really don't know who out there will be interested in working with you, the many ways they can help you, and how (together) you might impact our industry. Click here to learn more about Poster Sessions, and to get to the Poster Session Application.
That's right… get over yourself and ASK!
Your partner in holistic nutrition,
Nicole Hodson, NC, BCHNTM
Executive Director
P.S. Interested in Dr. Karr's cookbook? You're in luck! She is generously donating the proceeds of sales through the NANP to our Bonnie Fisk-Hayden Student Scholarship fund. By buying Our Journey with Food and its companion Cookery Book you can help a deserving student attend our conference for free. They'll make wonderful holiday gifts too! Click here to buy your copies now and help nutrition students get to the most important conference of the year.
Share this post: