Are You Up For A Challenge?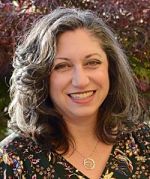 If I read one more article that starts with, "These are challenging times…" I'm going to scream! I think we're all painfully aware of the strange times in which we're living. So, instead of reminding you of it, I'm going to issue you a challenge.
You read that right… during this pandemic crisis, I'm going to suggest you challenge yourself.
Let's face it, "social distancing" – both literally and figuratively has taken its toll. We're all feeling a bit down, isolated, frustrated, caged in… so, what better time to tackle a new self-improvement project?!
I have three suggestions for you:
Become Board Certified in Holistic Nutrition®

– one of the best ways to challenge yourself is by taking our board exam. This exam is not for the faint of heart and requires a good six months of study. But just because it's not easy, doesn't mean it's impossible to pass. After all, a board exam should be tough! Otherwise, it would be, well, just another exam. Increase your circle of NANP pals and your odds of acing the exam by joining a study group. You've got the education, you've got the time (since you're stuck at home)… why NOT challenge yourself?



Book Some Public Speaking Gigs

– it's no secret that one of the best ways to build your practice and your professional reputation is by giving nutrition talks to consumers. You may be thinking, "Where exactly am I going to give a public talk right now, Nicole?" I have the answer… online! Everything, including NANP's HEALCon, has gone virtual this year. Seek out opportunities to put yourself out there in cyberspace. In fact, NANP's newest Partner, Sofia Health is seeking speakers for their webinar series. 

If public speaking makes you nervous, that's normal! Most speakers get a little jittery before a talk; I know I do. But that shouldn't keep you from giving it a go. If you're concerned about your skills, organizations like Toastmasters International can be a huge help. They can even help you get rid of those extra, "um's," "uh's" and "like's" so you can be as articulate as possible.



Add to Your Credentials

– if there's a certificate or degree you've been eyeing, now's the time to take the plunge. NANP members are life-long learners and we've got so many wonderful opportunities to bolster your knowledge. Visit our Industry Partners page to see what's available and get after the next step in your career. "I have too many credentials," said no one, ever. Go for it.
If you've cleaned every inch of your home, organized every closet and cabinet, binge-watched every Neftlix show that interests you, and you're looking for your next challenge, look no further.
Drop us a line at [email protected] to tell us which new adventure you're embarking on – we'd love to hear from you! 
In love, light and good health,
Nicole Hodson, NC, BCHN®️
NANP Executive Director
Share this post: